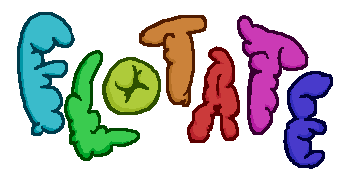 FLOTATE
Loading SWF for the first time...
Paddle frantically to capsize your opponent and claim your rightful place on the rubber ring.
CONTROLS:
PUSH EACH KEY SEPERATELY TO TURN AND PRESS TOGETHER TO SWIM TOWARDS THE RUBBER RING. SURFACE UNDERNEATH THE RUBBER RING TO CLAIM IT AND CAPSIZE THE RIDER!
Built on holiday in Portugal for OUJEVIPO CONTEST #2.
HAVE FUN!

NOW AVAILABLE IN FRENCH!
---
CREDITS
Programming/Art/Design - Alex Johansson
---
INSTALLATION REQUIRED: HOW TO BUILD A CONTROLLER
Here's how to build the controller for playing FLOTATE!
---
1. Get a tyre!
2. Paint the tyre to match the colour of the players (See above)
3. Next you're going to be fastening the conductive foil to the sides of the tyres. You need to cut out four sheets, roughly A5 sized (About half the size of standard printing paper). Figure out where you want them placed (should be a gap between each) then apply glue/tape onto the area you plan to attach them.

4. Attach the foil along the side of the tyre, making sure to leave an area lower down open to attach the wires.
5. Get a Makey Makey
6. One of the foil panels on either side should be a ground wire - the one the player is most likely to have their hand resting on.
7. The two remaining sections of foil should be connected to the left/right keys corresponding to the player colour (See above).
8. HAVE FUN!